.SE regulations summary:
No restrictions
Annual domain fee: USD 100.00
DNS Service/Web forwarding is included, free of charge.
---
.SE full regulations:
No restrictions, everyone can register .SE domain names.

.SE info in Swedish: http://www.web-solutions.eu/se_info.htm
Frequently Asked Questions for .SE domain names and Sweden
Is local company in Sweden required?
NO
Anyone can register any amount of domain names. It is however required that each registrant supply the Registry with an ID number. Business registrants will be required to supply the company registration number, whereas private registrants must supply either their social security number, ID card or passport number or the equivalent. Companies based within the European Union must also supply a valid EU VAT number.
Is local admin contact in Sweden required?
NO
No, a local administrative contact in Sweden is not required in order to register .SE domain names.
Are trademarks usable in Sweden?
NO
Trademarks are not required for .se. It is however also possible to register a trademark under the designated second level TLD tm.se.
Is Internationalized Domain Name (IDN) available?
YES
Languages:
Danish
Faroese
Finnish
Icelandic
Meankieli
Norwegian
Romani
Sami
Swedish
Yiddish

Offered IDN pattern include characters:
[áàäåæčçđðéèêíńñŋóòôöøšþŧúüýžאאאָבבֿדגהווּזטייִײַךככּלםמןנסעףפפּפֿץצקרששׂתתּ]
Are generic domains allowed for .SE?
YES
No restrictions. The registry has a list of geographic, political and other names which are blocked/reserved and therefore cannot be registered.
How much time does it take to register .SE domain name?
1 day/s
Usually, it takes 1 day/s to register a .SE domain name in Sweden. We will file the application as soon as possible. However, we cannot provide guarantees as we have no influence on the speed of the Swedish domain authority once the application has been filed.
What is the minimum of characters allowed for .SE domains?
3
It is not possible to apply for .SE domain names with less than 3 characters.
What is the maximum of characters allowed for .SE domains?
63
It is not possible to apply for .SE domain names with more than 63 characters.
Can I register more than one Swedish domain name?
YES, unlimited
Applicants may register an unlimited amount of Swedish .SE domain names.
Do I have to configure my DNS?
NO
There is no need to configure your Domain Name Server in advance for .SE domain name.
Are there other domain extensions related to Sweden?
YES
Yes, there are more Swedish extensions available at Web Solutions. Some of them might not require local presence and may be unrestricted. Please check the available extensions for Sweden below:
How to transfer domains to Web Solutions?
Required info:
Enter the domains you wish to have transferred to Web Solutions into the box
Fill in your name and email address
Press Confirm. A person from Web Solutions Support will contact you, in order to process the transfer request
Additional information:
If you have Auth. Codes ready, include these. If not, you can send them later
If possible and relevant, please unlock the domains, so they are ready for transfer
The Swedish Domain Authority allows to register .SE domain names consisting of only one character starting 27 May.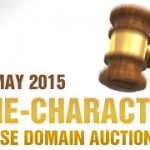 During the period of 28 May through 10 June an auction will be held on Tradera offering 18 most attractive .SE domains with one character. Those include: j.se, q.se, v.se, å.se, ä.se, ö.se, é.se, ü.se and 0.se ‐ 9.se. Other .SE domains with one‐character become available based on the first come, first serve principle on 27 May. As indicate [...]
The Swedish Domain Registry is introducing some changes to the existing regulations. One of those changes allows the registration [...]
Sweden, .SE – 2 letter domain auction Sweden is currently in the progress of auctioning off previously restricted 2 letter . [...]