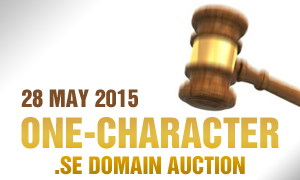 During the period of 28 May through 10 June an auction will be held on Tradera offering 18 most attractive .SE domains with one character. Those include: j.se, q.se, v.se, å.se, ä.se, ö.se, é.se, ü.se and 0.se ‐ 9.se.
Other .SE domains with one‐character become available based on the first come, first serve principle on 27 May. As indicated by the .SE IDN table, they are all IDN domains/characters (please see the table below).
Please be aware that the .SE Registry is not releasing master domains, such as a.se, b.se, c.se, etc…, since their use was reserved for the registration of names under 'domains' county letters (i.e.,.katema.a.se) under the old policy.
Also, a domain name consisting of a hyphen "‐.se" cannot be registered.
If you need more information about .SE domains, please feel free to email us at support@web-solutions.eu or give us a call on +44 (0) 20 4571 1971.
Table of IDN domains.
| Unicode | Character | UTF 8 | Name of letter |
| --- | --- | --- | --- |
| U+00E1 | á | c3 a1 | a with acute |
| U+00E0 | à | c3 a0 | a with grave |
| U+01CE | ǎ | c7 8e | a with caron |
| U+00E2 | â | c3 a2 | a with circimflex |
| U+00E6 | æ | c3 a6 | ligature ae |
| U+0107 | ć | c4 87 | c with acute |
| U+010D | č | c4 8d | c with caron |
| U+00E7 | ç | c3 a7 | c with cedilla |
| U+0111 | đ | c4 91 | d with stroke |
| U+00F0 | ð | c3 b0 | Eth |
| U+00E8 | è | c3 a8 | e with grave |
| U+00EA | ê | c3 aa | e with circumflex |
| U+011B | ě | c4 9b | e with caron |
| U+00EB | ë | c3 ab | e with diaeresis |
| U+0259 | ə | c9 99 | schwa |
| U+01E7 | ǧ | c7 a7 | g with caron |
| U+01E5 | ǥ | c7 a5 | g with stroke |
| U+00ED | í | c3 ad | i with acute |
| U+00EC | ì | c3 ac | i with grave |
| U+00EE | î | c3 ae | i with circumflex |
| U+01D0 | ǐ | c7 90 | i with caron |
| U+00EF | ï | c3 af | i with diaeresis |
| U+01E9 | ǩ | c7 a9 | k with caron |
| U+0142 | ł | c5 82 | l with stroke |
| U+0144 | ń | c5 88 | n with acute |
| U+00F1 | ñ | c3 b1 | n with tilde |
| U+014B | ŋ | c5 8b | eng |
| U+00F3 | ó | c3 b3 | o with acute |
| U+00F2 | ò | c3 b2 | o with grave |
| U+00F4 | ô | c3 b4 | o with circumflex |
| U+01D2 | ǒ | c7 92 | o with caron |
| U+00F5 | õ | c3 b5 | o with tilde |
| U+00F6 | ö | c3 b6 | o with diaeresis |
| U+00F8 | ø | c3 b8 | o with stroke |
| U+0159 | ř | c5 99 | r with caron |
| U+015B | ś | c5 9b | s with acute |
| U+0161 | š | c5 a1 | s with caron |
| U+0163 | ţ | c5 a3 | t with cedilla |
| U+0167 | ŧ | c5 a7 | t with stroke |
| U+00FA | ú | c3 ba | u with acute |
| U+00F9 | ù | c3 b9 | u with grave |
| U+01D4 | ǔ | c7 94 | u with caron |
| U+00FD | ý | c3 bd | y with acute |
| U+017A | ź | c5 ba | z with acute |
| U+017E | ž | c5 b5 | z with caron |
| U+00FE | þ | c3 be | Thorn |
| U+0292 | ʒ | ca 92 | Ezh |
| U+01EF | ǯ | c7 af | ezh with caron |
| U+05D0 | א | d7 90 | Hebrew letter ALEF |
| U+05D1 | ב | d7 91 | Hebrew letter BET |
| U+05D2 | ג | d7 92 | Hebrew letter GIMEL |
| U+05D3 | ד | d7 93 | Hebrew letter DALET |
| U+05D4 | ה | d7 94 | Hebrew letter HE |
| U+05D5 | ו | d7 95 | Hebrew letter VAV |
| U+05D6 | ז | d7 96 | Hebrew letter ZAYIN |
| U+05D7 | ח | d7 97 | Hebrew letter HET |
| U+05D8 | ט | d7 98 | Hebrew letter TET |
| U+05D9 | י | d7 99 | Hebrew letter YOD |
| U+05DB | כ | d7 9b | Hebrew letter KAF |
| U+05DA | ך | d7 9a | Hebrew letter Final KAF |
| U+05DC | ל | d7 9c | Hebrew letter LAMED |
| U+05DE | מ | d7 9e | Hebrew letter MEM |
| U+05DD | ם | d7 9d | Hebrew letter Final MEM |
| U+05E0 | נ | d7 a0 | Hebrew letter NUN |
| U+05DF | ן | d7 9f | Hebrew letter Final NUN |
| U+05E1 | ס | d7 a1 | Hebrew letter SAMEKH |
| U+05E2 | ע | d7 a2 | Hebrew letter AYIN |
| U+05E4 | פ | d7 a4 | Hebrew letter PE |
| U+05E3 | ף | d7 a3 | Hebrew letter Final PE |
| U+05E6 | צ | d7 a6 | Hebrew letter TSADI |
| U+05E5 | ץ | d7 a5 | Hebrew letter Final TSADI |
| U+05E7 | ק | d7 a7 | Hebrew letter QOF |
| U+05E8 | ר | d7 a8 | Hebrew letter RESH |
| U+05E9 | ש | d7 a9 | Hebrew letter SHIN |
| U+05EA | ת | d7 aa | Hebrew letter TAV |