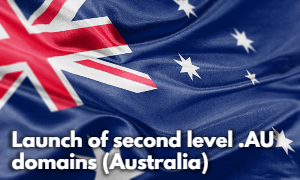 As of March 24, 2022, Australian domain names can be registered directly under the .au extension.
yourcompany.au
yourproduct.au
Previously, only third-level domains were available, registered under .‌com.‌au, .‌net.‌au, etc.
There is a distinction between entirely new domains, and 'grandfathering' of existing .com.au domains.
a) Grandfathering your existing domains
Starting next week and for a period of 6 months, a window is open where you can apply for the second level domain version of your already existing third level Australian domains.
This means that you will (if all conditions are met) be able to apply for the names directly under the .au of your existing .com.au, .net.au, etc. domains.
We certainly recommend applying for the second level domains now. Both for positive business reasons, but also to prevent others from taking them.
In order to apply, simply contact our Support at support@web-solutions.eu. We will then perform a verification check to confirm the eligibility and can confirm the order.
b) New .AU domains
Any .au domain application that has no existing .com.au (or similar extentions) already registered can be registered in real time starting later this week.
No restrictions, so long as you have a local presence in Australia. Now is a good time to grab some valuable names!