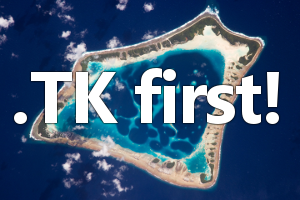 The .TK country code top level domain (ccTLD), one amongst the three TLDs with the most detrimental domain registrations and whose domains are given away free of charge for the most part, has surged to first position among ccTLDs with 16.7 million valid registrations, the most recent CENTR DomainWire report reveals.
According to the CIA Factbook, Tokelau (a small Pacific Island with a population of 1353) together with .COM and .INFO, is to blame for 82% of malicious domain registrations. This figure comes from a phishing survey published in April by the Anti-Phishing Working Group (APWG).
As most of the .TK domains are free, at the end of April 2013 the .TK domain registrations exceeded the .DE domain registrations of 15.4 million by 1.3 million according to the CENTR DomainWire. The number of the .UK domain (United Kingdom) registrations at that time was 10.5 million.
Next in line was .CN (China) with 7.5 million, followed by .NL (Netherlands – 5.2 million), then .RU (Russian Federation – 4.5 million), .EU (European Union – 3.7 million), .BR (Brazil – 3.2 million), .AR (Argentina – 2.9 million) and .AU and .FR (Australia and France – 2.6 million).
Obviously, they're all overshadowed by .COM domain with 108.8 million registrations, as reported by Registrar Stats.
Among the fastest growing ccTLDs, .CN domain could boast the highest growth rate within the last six months, with the number of registrations growing by 82.7 %. It was followed by .TK domain that increased by 54.7 %, then .IN (India – 14.3%), .RU (12.5%) and .FR (6.4%).
Additional highlights of the DomainWire report:
in Europe, there were 64.2 million ccTLD registrations
within European ccTLDs, the average renewal rate was 79%
the .PT (Portuguese ccTLD) had the best twelve-month net growth of 27%
commercial reasons appear to be the most common use of a domain name for European ccTLD registrations (61%)
10.7 characters was the average number of characters within a European domain name
out of 42 ccTLDs within Europe 28 (67 %) supply IDNs in their zone and additional three intending to implement (Belgium, Cyprus and Slovakia)
substantial numbers of IDNs can be identified within the Russian Federation IDN TLD (.PФ ) with almost 800,000 followed by .DE domain with more than 600,000
How to register .TK?
To register .TK (Tokelau) domain name simply use the form located below or contact our support team at support@web-solutions.eu.