Domain names in .GOV for US Government cannot be registered at this time.
How to transfer domains to Web Solutions?
Required info:
Enter the domains you wish to have transferred to Web Solutions into the box

(please note that transfer of .GOV domain names to Web Solutions is currently not available)

Fill in your name and email address
Press Confirm. A person from Web Solutions Support will contact you, in order to process the transfer request
Additional information:
If you have Auth. Codes ready, include these. If not, you can send them later
If possible and relevant, please unlock the domains, so they are ready for transfer
The domain industry, like any other, uses complex nomenclature. Much of the abbreviations, jargon and terms is not entirely clear to a layman. Here is an explanation of some of the basic acronyms relating to Internet domains.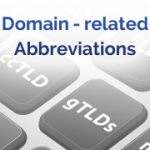 When starting an adventure with domains, people often seek professional advice sites, blogs and forums. However, once they find the desired content, they are not always able to understand it because the terminology describing certain phenomena and mechanisms is hard to decipher. Among terms that frequently appear on domain services sites there are [...]
In total, there are currently 312 new gTLDs approved by the International Corporation for Assigned Names and Numbers (ICANN) compa [...]
Taking quarterly growth into consideration as of May 2014, the highest growth rate of 2.2 % has been reported for ccTLDs whose glo [...]