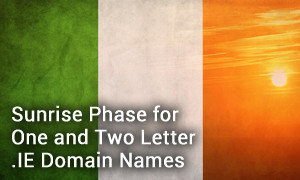 During the Sunrise phase only trademark holders will have the opportunity to apply for a one or two letter .ie domain that is an exact match of their registered mark. Multiple applications for each domain may be filed, and all applications received will go through an evaluation. Responses will be issued within 48-72 hours of receipt during business days.
The eligibility criteria are as follows:
An applicant must be a holder of one of the following trademarks: Irish Trademark, European Community Trademark, International Trademark (designating Ireland), UK Trademark (where the registered company address on the relevant Trademark database is located within the island of Ireland).
All trademarks must be fully registered.
All applicants will be requested to provide a copy of their Trademark certificate/Trademark number, which will undergo the verification by the IEDR's Registrations Department.
All trademark rights must have been obtained before July 30th, 2014.
The applied for domain name must be identical to the exact wording in the eligible Trademark that the application is based on.
Multiple applications eligible for registration will be resolved by means of an auction. The auction process is scheduled to commence in January 2016.
Landrush phase is expected to commence on 21 February, after the Sunrise phase and applicable auctions have been completed. Premium pricing will apply during Landrush due to expected high levels of demand. The General Availability phase will then be announced offering general registration on a first come first served basis.
Some domains will be restricted from registration as they are reserved for the registry's use: ie.ie, ei.ie, ir.ie, us.ie, uk.ie, ni.ie, co.ie, eu.ie, ec.ie, ip.ie, ns.ie, me.ie, rr.ie and ds.ie.
If you wish to take advantage of the Sunrise registration of your desired .IE domain, please contact us at support@web-solutions.eu or call on +44 (0) 20 4571 1971.