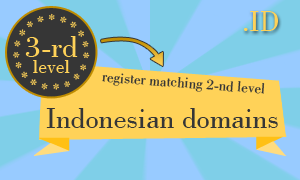 Shorter domain names, such as YOURCOMPANY.ID are now available in the national Top-Level domain of Indonesia .ID for registration to entities that already own a Third-Level .ID domain.
The launch of second level .ID domains in the fourth most populous country in the world, with a population of almost 240 million, provides new opportunities to anyone who wishes to establish online presence on the local Indonesian market, enhance their brand image or show their affiliation with Indonesia.
The Grandfather phase allows holders of existing 3-rd level .ID domain names to secure their domains by registering exact matching .ID domains and significantly enhancing their local Indonesian online visibility.
Applicants wishing to register .ID domains and their administrative contacts, must be based in Indonesia. Web Solutions offers Trustee Service to applicants without local presence. For more information contact our Support Team at support@web-solutions.eu. Additionally, applicants selecting the Trustee Service should provide Power of Attorney authorizing the trustee to act as the local Admin Contact (this document will be provided by Web Solutions).
Second level .ID domain names will be allocated after the Grandfather phase has closed on 12 June 2014, 15:00 (GMT+8). In case there are more than one applicant for the same domain name, the allocation will be resolved via auction.
Following the Grandfather phase, the .ID domain will be available for registration by legal entities registered in Indonesia and Indonesian citizens.
.ID Launch phases:
Pre-registration now – 17 August 2014
Sunrise 20 January 2014 – 16 April 2014 (has ended)
Grandfathering 21 April 2014 – 12 June 2014
Landrush (Early Access) 12 June 2014 – 14 August 2014
General Availability beginning 17 August
If you with to register a domain name in .ID extension, please click the domain or contact our Support Team at support@web-solutions.eu or via phone on +44 (0) 20 4571 1971.