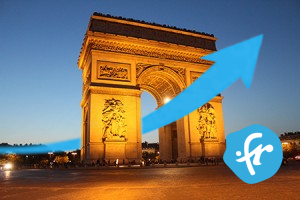 The overall growth rate for domain names globally was 9% for the year 2012 – a 1% drop as compared to the previous year. The slowdown mostly affected generic top level domains (.COM, .NET, etc.) with a decrease in domain registrations of about 7% within a period of 12 months (3.4% growth rate in 2012 as opposed to 10.8% in 2011). The driving force on the domain market were the geographic TLDs showing an increase of 17% in the volume of stock.
However, among the factors significantly contributing to the growth were the build-up of the Chinese ccTLD .CN (growth of more than 90%), free .TK (Tokelau) domain registrations (approximately 8 million registrations in 2012) as well as opening new ccTLDs such as .PT (Portugal) or marketing geographical TLDs as generic TLDs such as in the case of .CO (Colombia) and .ME (Montenegro) with the annual growth rate of 15% and 14% respectively.
The French domain market follows suit with the .FR ccTLD expanding its market share with the highest annual growth rate of 15% by the end of 2012. According to the report, the market share growth of the .FR ccTLD was nearly at 36% on 31 December 2012 against 32% the previous year. The number of .FR domain name registrations in 2012 amounted to more than 7 million and exceeded 2.5 million mark in all making it the second most popular domain in France. At the same time, other TLDs are experiencing a downturn with .COM, for example, losing more than 3% of the market share in volume. Despite the decreasing number of registrations (a drop of 100,000 domain names within the period of 12 months), .COM continues to be the domain most commonly applied for in France. Third comes .NET (7% market share) followed by .ORG, and .EU domains.
The boost of .FR registrations since the end of 2011 has been fuelled by the opening of the .FR suffix to the whole European community and introduction of accented characters for use in domain names in July 2012. Despite economic slowdown in Europe, .FR is a preferred domain for businesses seeking to establish local presence in France or increase its visibility on the market, particularly start-up enterprises.
The French Domain Registry is also committed to maintaining the highest standards of quality and technical excellence. They have adopted measures to guarantee utmost security and reliability supporting the deployment of DNSsec (Domain Name System Security Extensions) and set up Support Fund for the Development of the Internet.
To see if the .FR domain of your choice is available simply enter your domain name into search box located below or contact our Support Team on support@web-solutions.eu.