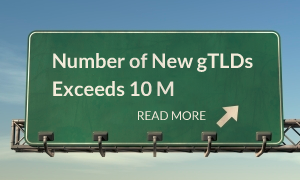 At the time of writing this, there are 10,826,595 domain names registered across 846 new generic Top-Level Domains, which all have been released within the New gTLD Program initiated by ICANN, the global domain authority.
The domain with most registered domain names continues to be .XYZ with over 1,715,000 registrations constituting 15.08 % of the market share. The .TOP domain comes in second with over 937,000 domain names and the market share of 8.7%.
Fourteen domains have crossed the 100,000 registrations mark, one of which is the Chinese IDN .WANG. The Chinese domain is number three on the list of most popular new gTLDs and has almost 599,000 registrations, making up for 5.5% of the new domains market.
If you wish to take advantage of the new domains on the Internet and register that perfect domain that has already been registered under .com or .net, please select the domain of interest and enter the name in our search tool.
If you need assistance, please let us know at support@web-solutions.eu or via telephone on +44 (0) 20 4571 1971.