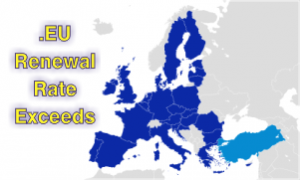 The high renewal rate of .EU domain names has been maintained for seven years running, indicating loyalty of the .EU domain name holders. For years, .EU has been considered a trustworthy quality domain that can explain the highest percentage of business websites when compared with the largest gTLDs.
According to the report, 37.8 percent of .EU websites are used for business purposes while an average of 30.5 percent of websites under .COM, .BIZ and .NET are used for the same purposes.
There has been reported a net increase of 0.3 percent in the number of .EU registrations to 3.71 million for the fourth quarter of 2013.
The number of Internationalised Domain Names (IDNs) under the .EU at the end of fourth quarter of 2013 was 51 996 (1.4 percent of all registrations).
The total number of .EU registrations increased in 19 of the 28 European Union Member States. Croatia, Bulgaria, Malta and Latvia all have reported growth of more than three percent.
To take advantage of the reputable .EU extension and register a domain name of your choice under .EU, please enter the name in the box to check its availability or contact our Support Team at support@web-solutions.eu or via phone on +44 (0) 20 4571 1971.