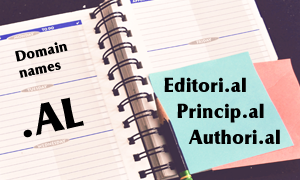 Thanks to its attractive combination of letters, .AL domains have great potential to create meaningful words with the ".AL" ending, often referred to as domain hacks. They present opportunities to create new short domain names that can also be used as redirectors or pastebins. Domain hacks may serve as base domains for delegation of subdomains and URL shortening services as well.
Over the recent years, a great number of such addresses have been registered in different languages, particularly Turkish but English words have also received a lot of attention. Examples of valuable domain hacks include: SIL.LY (.LY being Libya's country code domain), PLEASE.DO.NOT.DISTURB.ME (Montenegro), GOO.GL (Greenland), YOUTU.BE (Belgium), ITUN.ES (Spain) as well as OPTIM.AL, IDE.AL or EXTERN.AL (Albania).

The Albanian domain registry has just released a list of premium domain names that are now available for registration. Here are some of the attractive domain hacks for your consideration:
aborigin.al
advertori.al
aeri.al
aesthetic.al
alphabetic.al
analytic.al
apprais.al
architectur.al
artistic.al
astronomic.al
asymmetric.al
atomic.al
bacteri.al
beerfestiv.al
benefici.al
biochemic.al
buri.al
celesti.al
cosmetic.al
credenti.al
decim.al
desir.al
dynamic.al
ecologic.al
existenti.al
geographic.al
hospit.al
identic.al
inform.al
intern.al
juridic.al
lumin.al
margin.al
moment.al
montre.al
mystic.al
nautic.al
neanderth.al
numer.al
numeric.al
nutrition.al
optik.al
pedest.al
perceptu.al
peripher.al
plur.al
politic.al
promotion.al
propos.al
radic.al
raf.al
rasc.al
sequenti.al
surgic.al
titanic.al
transsexu.al
tribun.al
usu.al
If you wish to take advantage of this great opportunity to register a valuable domain name within the .AL extension or any other extension, please click on the selected domain.
For Albanian domains Web Solutions further provides Local Presence Service, if needed. If you need more information on .AL domains, contact our Support Team at support@web-solutions.eu or by phone on +44 (0) 20 4571 1971.