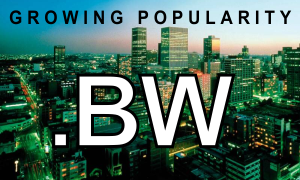 As national identity becomes more and more important within the global Internet community, the Botswanian Domain Authority has launched the awareness campaign aiming to encourage greater uptake of Botswana's country code top level domain (ccTLD) .BW. As the project designed to allow the management of the .BW domain to be transferred from the Botswana Telecommunications Corporation (BTC) to Botswanian Domain Authority. Following the transition, separate entities will be in charge of managing .BW domain registrations and allocating local internet addresses to customers.
.BW domain registry's vision goes along the premise of embracing the platform "for national advancement and national pride" stressing the value of local online presence. Country code TLDs are a great tool that can help in targeting local audience and developing Botswanian Internet content.
To join other businesses and individuals who wish to enter the dynamically growing African markets, register your .BW domain. Check if the name of your choice is available, enter it in the box below.