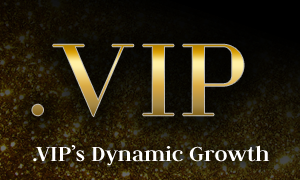 The .VIP extension has gained an astonishing number of registrations since its release on 17 May 2016. Within first 24 hours, the domain gained over 170,000 registrations. 34 out of 77 registrars servicing registration of .VIP names were from China.
As of 9 June 2016, .VIP has had 407,519 names registered, which places the domain within the top 10 of new gTLDs.
It is good news for investors as the outlook on renewal rates and the long-term reputation of the domain is very optimistic.
During the weekend of 4 June 2016, 8 .VIP names were contributed to a premium name auction held in China at the Global Domain Summit with the aggregate gross proceeds before auction fees of about US$283,000.
So far, 20 names have been sold in three auctions since .VIP's launch, generating gross proceeds before auction fees of nearly US$632,000. The .VIP Registry plans to release additional .VIP premium names on a regular basis throughout the next twelve months via auctions.
The .VIP domain has been especially popular in China as it is strongly associated with honour and prestige. It has recently received two awards: "Outstanding Performer in the Chinese IDC industry" and "China's Most Welcomed New gTLD 2016".