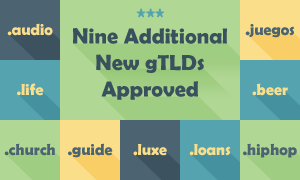 The International Corporation for Assigned Names and Numbers (ICANN) has already approved 268 new generic TLDs. The new domains are being released within the New gTLDs Program, developed to enhance choice and competition online.
The following are the newly approved domains that will soon be available for registration:
.AUDIO
.BEER
.CHURCH
.GUIDE
.HIPHOP
.JUEGOS (Spanish for "games")
.LIFE
.LUXE
.LOANS
To pre-register a domain name in any of the above extensions or to find out more about new gTLDs, please click on the domain of your choice or contact our Support Team at support@web-solutions.eu or via phone at +44 (0) 20 4571 1971.