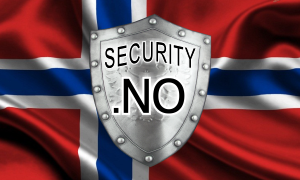 In a world-wide web test evaluating safe use of web sites within 265 national top-level domains in the world, Norwegian domain .no has ranked as number three. The Norwegian domain is considered to be among the safest in the world when it comes to virus and other web site security threats. Norwegian web sites have less pop-up windows and spam than most sites within other global top-level domains.
There are, according to the test's results substantial geographical differences considering safety for use of Internet sites within various national TLDs.
Huge disparities
Four countries from the Nordic region are rated among the five safest national top-level domains with Finland leading the way. Ireland is placed second, followed by Norway. Among larger countries, the most risky are Romania and Russia.
Top-level domains with no connection to nationality have also been rated. Among those .info is at the bottom. The second most risky is the common .com domain. It comes without surprise that sites among .gov domain (which is only used by United States government agencies) are not considered risky. Similarly, .edu also gets a good rating within the generic top-level domains.
The test, conducted by McAfee SiteAdvisor, surveys all web sites in the world. The Internet sites are continuously examined and tested for safety hazards such as spam, pop-ups and risky downloads. The web sites are color-rated: green, yellow or red. Before publication, the automatically compiled results are supplemented by experiences and comments from users.
Domain name registration procedures are vital
The analysis shows the importance of the policy for the top-level domain registration as a major reason for the dissimilarities. In Norway, for example, registration directly under .no top-level domain is restricted to authorized companies only (those who have local presence). Therefore, the organization responsible for an Internet site can be easily identified. Overall, Norwegian web sites are regarded as relatively safe and professionally managed.
In addition, the test findings point out that the price for maintaining a domain name may have some importance. All Internet users need to exercise caution, especially when visiting the sites within the high-risk top-level domains.
Even with no local presence in Norway, registration within .no domain is possible with Local Trustee service provided by Web Solutions. An experienced global domain registrar, Web Solutions provide domain name registration services to both individuals and companies world-wide including territories that require local presence.
Facts about top-level domains
Currently, there are 265 national top-level domains, such as .no in Norway and .fi in Finland, world-wide. The number of generic top-level domains, such as .com and .net, has reached 17. Top-level domains are authorized by ICANN (Internet Corporation for Assigned Names and Numbers).