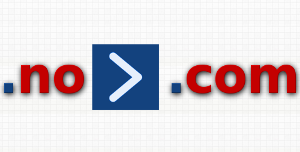 Numerous Norwegian businesses choose .NO domain name for branding and marketing showing their bond with Norway and trust in the Norwegian top-level domain.
Based on a recent survey conducted by Sentio on behalf of the Norwegian domain authority the Norwegian domain name .NO ranks highly among both the Norwegian business community and the general public. Remarkable 80 percent of the surveyed businesses using more than one domain name stated that the Norwegian domain name is their primary domain. While the .COM top-level domain is it's main competitor, only 10 percent of the businesses use it as their principal address.
Quality and Norwegian distinctiveness
The Norwegian domain name .NO, according to most of the survey participants, has the highest recognition among top-level domain names in Norway. It also authenticates the Norwegian Domain Authority's requirement for the local presence (a necessary condition for the Norwegian domain registration). If you have no local presence in Norway, with Web Solutions' Trustee Service for Norway we will provide this for you.
While evaluating the qualities of .NO and .COM domains, the entities surveyed suggest that the Norwegian domain name .NO is perceived as more reliable than .COM in the aspects of technical performance, online shopping security and verification of the domain name holder's identity.
Stable position vs new competitors
The global domain name market will observe the influx of more than one thousand new top-level domains. This will cause increased competition for the existing top-level domains, including the .NO domain name. The Sentio's survey implies that the Norwegian domain name is well-prepared to face the competition from incoming domain names.
Domain names continue to be significant
The great majority of Norwegian businesses consider their own Norwegian domain name relevant and they use it for websites and email as well as branding. Their domain is important both for promoting the business and products and services. Many companies with non-local companies opt to use Web Solutions Local Presence Service for .NO domains. While the idea of social media replacing some of the demand for a separate Norwegian domain name is popular among some, most people believe domain names will continue to be relevant in the future.