Registration of .BR domain names for Brazil is currently unavailable.
Unfortunately, domain names in .BR extension for Brazil are not available for registration at the moment. You may check alternative nameplaces/extensions for Brazil that are available. Click your chosen TLD to read more about Brazilian registry regulations, policy and prices for the domains listed.
How to transfer domains to Web Solutions?
Required info:
Enter the domains you wish to have transferred to Web Solutions into the box

(please note that transfer of .BR domain names to Web Solutions is currently not available)

Fill in your name and email address
Press Confirm. A person from Web Solutions Support will contact you, in order to process the transfer request
Additional information:
If you have Auth. Codes ready, include these. If not, you can send them later
If possible and relevant, please unlock the domains, so they are ready for transfer
The third quarter of 2015 shows combined growth of 1.6 % for the total of over one thousand Top Level Domains, according to The DomainWire Global TLD Stat Report.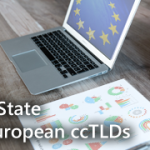 The dynamically increasing number of domain name registrations across all domains available was close to 300 million, according to the report. Over the period of the third quarter the number of registrations has grown by 1.6% compared to the previous quarter. For the most part, the market was shared between ccTLDs (such as .DE, .ME, .UK, etc.) and [...]
In the second quarter of this year, the number of names in the .EU extension increased by 32 791, which represents a net increase [...]
Taking quarterly growth into consideration as of May 2014, the highest growth rate of 2.2 % has been reported for ccTLDs whose glo [...]