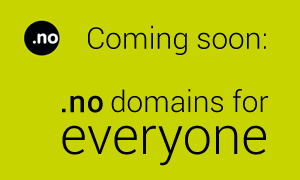 Until now, registration of domain names directly within the .NO extension has been available to businesses and other organizations while a separate domain, .PRIV.NO, has been reserved for individuals.
In 2013, the Norwegian Domain Authority proposed opening the .NO domain to individuals which was followed by a public consultation. Consequently, nearly 500 entities including individuals and organizations gave their feedback with the great majority supporting the recommendation of the authorities.
Starting 17 June, individuals in Norway will also be able to take advantage of the national top-level domain and establish their own identity online using the .NO address. It can be beneficial to bloggers, website operators or anyone wishing to have their own e-mail address or to mark their Norwegian presence on the Web.
Norwegian country code domain is known for its high quality, stability and solid security.
Once allocations begin, applications will be collected in accordance with the registration policy and the Norwegian law. To ensure an equal opportunity for everyone, lots will be drawn in the cases where there are more than one applicant for the same domain name.
Applications for .NO domain names from private individuals can be submitted beginning 17 June 2014, 10 AM local time. No priority will be granted to any private domain names. Domain names must not violate Norwegian law or any rights of a third party.
The .PRIV.NO domain will not be discontinued.
If you are interested in registering a domain name under .NO extension or any other domain on offer, please click on the domain of your choosing to learn more about its registration guidelines.
For questions or further assistance, please contact our support team at support@web-solutions.eu or via phone on +44 (0) 20 4571 1971.