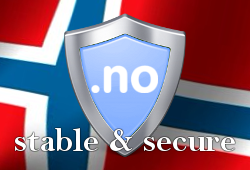 The Norwegian Post and Telecommunications Authority has concluded an audit of the security and stability of the .NO top level domain. After the evaluation, the NPT was very satisfied with the results and concluded that Norwegian domains are robust.
The report confirms that Norwegian organisations and businesses prefer to use the .NO as primary top level domain for their website development on the attractive and growing Norwegian market.
The .NO domain name is restricted to Norwegian companies only. However, many companies opt to use Web Solutions' Local Presence Service for .NO domains. With that service, no local presence is required.
Additional conclusions of the NPT audit:
Norwegian .NO name servers have sufficient capacity to handle requests at high load
The registry is well prepared to manage rapid growth in the number of .NO domains registrations
The technical process of registering .NO domain names is safe and secure