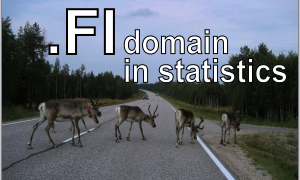 Over 300,000 fi-domain names
Up to date, there are approximately 320,000 fi-domain names granted – over 40 times more than in 1997 when the Finnish Domain Name Authority began to grant fi-domain names. That figure includes domain names granted for private individuals, companies and organisations.
Close to 50 per cent of the newly registered Finnish domain names are held for a year, 40 per cent for three years and 10 per cent are reserved for five years.
Among all Finnish domain names, private persons hold about 13 percent whereas 80 percent has been reserved for organisations and companies. Over time, the fi-domain name has established its position on the internet as a reliable Finnish address.

History of Finnish domain names
In 1997 there were 7,000 Finnish domain names registered. After 25 years, the number of fi-domain names increased more than 40 times and continues to grow. With a volume of more than 30,000 entries, the fi-domain registrations by private persons enjoy the strongest relative growth.
Private persons have been able to apply for fi-domain names since 1 March 2006. After this, a continuous growth in the number of Finnish domain names has been observed, especially in the late 2000's. In 2006, Finnish domain regulatory authority granted 35,572 domain names. By the end of 2010 the figure reached 47,394.
In February 2009, the fi-domain name authority granted the 200,000th domain name to a Lappish company Tmi Maari that registered a domain name called maari.fi.
In October 2010, a company from Pori called ATK-Palvelu Hakosalo Oy was granted a fi-domain name, yprek.fi taking making it the 2500,000th valid fi-domain name.
In 2003, the Domain Name Act entered into force. The Act increased the scope of domain names available for application. In addition, an automated domain name service was introduced at the same time. Furthermore, the Finnish Domain Name Authority abandoned the practice of preliminary investigation of domain name applications. These reforms resulted in doubling the number of Finnish-domain name registrations. At the end of 2003, there were approximately 75,000 fi-domain names.
The number of fi-domain name registrations has been growing rapidly over the past few years. In 2008, 38,600 new fi-domain name applications were approved whereas the total number of fi-domain names granted in 2009 reached 48,000. That number increased to 52,000 in 2012.
Registering a fi-domain name is easy with Web Solutions – a leading global domain name registrar. Web Solutions' Proxy Service makes it possible to register without a required local presence. Our experienced team of consultants will answer all your questions and walk you through the application process stress-free.