Registration of .TR domain names for Turkey is currently unavailable.
Unfortunately, domain names in .TR extension for Turkey are not available for registration at the moment. You may check alternative nameplaces/extensions for Turkey that are available. Click your chosen TLD to read more about Turkish registry regulations, policy and prices for the domains listed.
How to transfer domains to Web Solutions?
Required info:
Enter the domains you wish to have transferred to Web Solutions into the box

(please note that transfer of .TR domain names to Web Solutions is currently not available)

Fill in your name and email address
Press Confirm. A person from Web Solutions Support will contact you, in order to process the transfer request
Additional information:
If you have Auth. Codes ready, include these. If not, you can send them later
If possible and relevant, please unlock the domains, so they are ready for transfer
Croatia (.HR) in European Union, another 7 countries expected to join the EU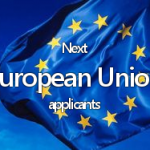 Croatia (.HR) formally became the newest member of the European Union on 1st of July 2013, marking an end to a 10-year campaign for this Balkan state. With Croatia now an official member, attention turns to the next countries in line for an EU membership. Joining European Common Market – free trade within the European Union – is benefi [...]