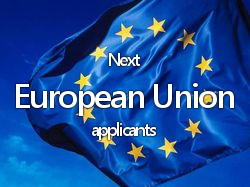 Croatia (.HR) formally became the newest member of the European Union on 1st of July 2013, marking an end to a 10-year campaign for this Balkan state. With Croatia now an official member, attention turns to the next countries in line for an EU membership.
Joining European Common Market – free trade within the European Union – is beneficial to trade and economic relations of the member countries. It is extremely important for a company entering new and established markets within the EU to make its presence known on the internet by registering the company name via local domain name.
Below are the main contenders and a short summary of the relevant local domain regulations:
Albania, .AL
Applicant must be a private person or entity based in Albania. Web Solution further offer a Local Presence Solution for .AL domains.
Bosnia & Herzegovina, .BA
Unrestricted. Foreign companies can register up to 20 .BA domain names.
Iceland, .IS
Unrestricted.
Kosovo, .KS (expected)
Currently no domain space available.
Macedonia, .MK
Applicant must either be a Macedonian company or resident. Web Solutions further offer a Trustee Service for Macedonian domains.
Serbia, .RS
Available for foreign applicants. A local administrative contact required. Web Solutions will provide this at no extra charge.
Turkey, .TR
Open to foreign applicants. However, a connection to Turkey and to the domain applied for must be documented. Domains are registered under .COM.TR.