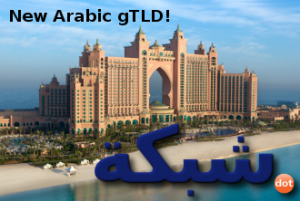 ICANN's new gTLD programme has begun with opening the first Sunrise period for the Arabic IDN .شبكة, (.SHABAKA) which means .WEB in Arabic. Trademark owners may register their chosen domains within this extension without restrictions.
Although published quietly on the Trademark Clearinghouse's website on 31 October, the opening of the Sunrise period for this Arabic TLD is nevertheless a significant milestone for ICANN's new gTLD program. It goes along ICANN's idea of expanding online communication to new markets and extending the reach of the Internet to speakers of different languages around the globe.
Among trademarks registered in the Trademark Clearinghouse Arabic trademarks represent a very small percentage. The announcement, however, is likely to stimulate additional submissions aimed to take advantage of the Sunrise period.
The term .شبكة (.SHABAKA) is reportedly widely recognised among all Arabic speakers as the generic term for the Internet and will become the first border-less Arabic new top-level domain. It will be instrumental in providing Arabic speaking online community with an all-Arabic alternative to domains such as .NET, .COM, and .ORG.
The .شبكة brand is expected to be positioned as an impetus to the truly international experience for Arabic Internet users opening the door to web navigation in their native language. Further, the domain registrants will become a part of the movement embracing a cause to empower the Arabic speaking online community.
The Sunrise period will last 60 days ending 29 December 2013 and will be followed by the 30-day Landrush period offering allocation of domain names by auction and ending 31 January 2014.
General availability phase will commence on 4 February 2014 on a first come, first served basis.
Trademarks can be claimed during the period of 2 Jan 2014 to 4 Apr 2014.
To gain access to Sunrise period, please submit your trademarks to the Trademark Clearinghouse using our Managed TMCH submission service.
You can receive more information about and register .شبكة by contacting our support at support@web-solutions.eu.