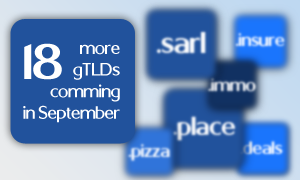 Of the eighteen new gTLDs, the following seven will enter the Sunrise Phase and will be available for registration to trademark holders:
As of September 2:
.RESTAURANT, .GIFTS, .SARL
As of September 30:
.PIZZA, .IMMO, .BUSINESS, .NETWORK
The other eleven gTLDs will go into their General Availability phase and will be able to any registrant:
September 3
.DIGITAL, .ACCOUNTANTS, .FINANCE, .INSURE
September 10
.LOANS, .LIFE, .GUIDE, .CHURCH
September 24
.DEALS
With the number of registrations exceeding two million, it seems clear that there is a strong demand for definitive and relevant domains globally. It attests to the ongoing evolution of the Internet.
If you wish to take advantage of the newly released domains and mark your unique and relevant presence on the Internet, please click on the desired extension.
Should you have any questions or need assistance, please contact our Support Team at support@web-solutions.eu or via phone on +44 (0) 20 4571 1971.