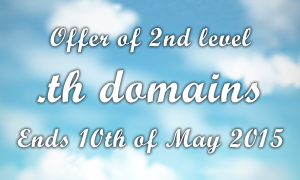 This once-off offer is available for a limited time window ending 10 May 2015 and allows the above mentioned applicant profiles to register a matching second level .TH domain. Domains grandfathered from CO.TH must be identical to the original domain string. Trademarks and company names must also be an exact match.
It is not a Sunrise phase – rather, its a once-off possibility to make a unique presence within .TH namespace in exchange for a charity contribution. It is also a great opportunity to position yourself for a potential future opening by registering a .CO.TH domain now, even if that domain has no value at the moment and is only a steppingstone to the second level one.
The registration of names directly under .TH can be made under our usual terms and pricing for .CO.TH domains. However, the specific additional charges are largely payable to the registry (we will assist with all these matters):
Application fee – non refundable – once-off: USD 500,00
Annual mandatory local charity payment of 100 000 Thai Baht (appr. 3000 USD at today's rate).
The charity payment can be converted to a once-off payment of 1 000 000 (1 million) Thai Bath – never to be repeated again.
It can also be an attractive offer for those looking at domain hacks. For instance, if someone registers "sou.co.th" or "you.co.th" now, there is a chance that they can get "sou.th" or "you.th" in a future offer.
The offer is not available to non-Thai trademark holders or holders of .IN.TH domains.
After 10 May, it is no longer possible to apply – also in the future.
To take advantage of this great limited-time offer and place yourself in the exclusive position within Thailand and the related region, contact our Support Team at support@web-solutions.eu or give us a call on +44 (0) 20 4571 1971.