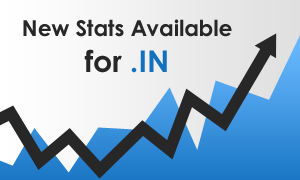 So far, the .IN extension has gone under-reported despite considerable interest. Information has not been published in registration rankings nor has it appeared in industry reports. Finally, the .IN Registry has made the results available to a wider audience.
Currently, there are 2,067,508 registrations within .IN, according to the Registry. The Indian extension was launched in 2004 and covers economically and linguistically diverse sectors of Indian population of about 1.25 billion. IDNs (Internationalised Domain Names) are also available in seven Indian languages.
Internationalized Domain Name (IDN)
Language
 .भारत
.ভারত
.భారత్
.ભારત
.بھارت
.இந்தியா
.ਭਾਰਤ
.Bharat in Devanagari
.Bharat in Bangla
.Bharat in Telugu
.Bharat in Gujarati
.Bharat in Urdu
.Bharat in Tamil
.Bharat in Gurumukhi (Punjabi)
Despite the uneven distribution of Internet access across India, the ongoing economic development along with the increasing number of registered domain names hold the promise for the growth of the .IN domain's both primary and secondary market. Though not very popular on the global market at the moment, in time, the .IN extension may gain a momentum and become a valuable player.