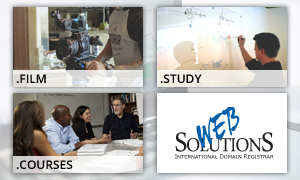 The release of the new generic domains is part of the New gTLD Program launched in 2012 by the global Internet authority ICANN (International Corporation for Assigned Names and Numbers). Within that program around 1,400 new generic domains are going to be released to the Internet in order to create more consumer choice, enhance competition and promote innovation.
New gTLDs are a great way to mark your online presence with a meaningful domain name or to register those perfect domains that are no longer available under .COM or .NET. As new generic domains become more and more popular, they can be really helpful in reaching your target audience and maximising your online exposure.
To check if your desired domain name is available, click the domain of interest and enter the name in our search tool. If you need assistance, please do not hesitate to email us at support@web-solutions.eu or call us on +44 (0) 20 4571 1971.