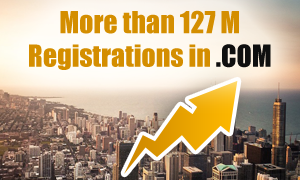 According to the .COM Registry, the number of registrations in the .COM domain base has crossed the 127 million mark for the first time on record. The domain base includes the active domains zone as well as names that are on hold or not yet configured for active use.
The world's most popular domain does not cease to grow and continues to attract registrants on the primary as well as secondary market. At the time of writing this, there are 127,244,984 registrations in the .COM. The second largest legacy domain – .NET – has 15,803,886 registered names in its base.
Both .COM and .NET domains have been available for registration for over 15 years and are considered to be the most trusted and reliable among all domains. Many brands and businesses across the globe have achieved great success taking their business online with the help of .COM or .NET.
If you wish to join the .COM or .NET community, consider registering your desired name within one of those extensions. It is easy and quick thanks to our search tool that helps you check if the name you are looking for is available. If you need assistance, please do not hesitate to contact us at support@web-solutions.eu.