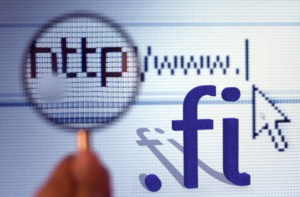 A large amount of .FI domain names with spelling mistakes are being examined by the Finnish Communications Regulatory Authority. As many as 886 domain names of Finnish companies and services are being investigated. Their registration was completed via a Malta-based registrar but the domains were registered under a Finnish holder.
The Finnish contact admin as well as the Maltese registrar have been contacted by Finnish authorities who continue their investigation of the case. At the moment the Maltese registrar has been denied the right to apply for new Finnish domain names until further notice. The activities may eventually lead to the cancellation of all .FI domains registered by the compromised Maltese registrar.
Misspelled domain names linked to advertisement sites
Misspelled domain names are typically very similar to business names, trademarks or other names protected under the Domain Name Act. The difference is frequently hardly noticeable which leads to transferring the internet user to a false site due to e.g. a spelling mistake. An example of such a misspelled name may be www-web-solutions.fi.
It is typical of a website utilizing a misspelled address to have links to advertisements of various services. By leading the user, who has accidentally accessed the site, to click on the advertisement link the web site manager receives payment from the advertiser. Such practices are called 'typo-squatting' in English.
Local presence required in order to register .FI domains in Finland
Finland require that all applicants are either a Finnish person resident in Finland or a Finnish company.
If you have no such local presence, you can use the service of a Local Presence or Trustee service provider, such as Web Solutions.
To register .FI domain names, use our search form located below or contact us directly at relations@web-solutions.eu