.TRAVEL regulations summary:
No restrictions
Annual domain fee: USD 250.00
DNS Service/Web forwarding is included, free of charge.
---
.TRAVEL full regulations:
Name registration is limited to names to which the travel organisation holds rights to, or uses in their business. In the following some examples:

1. Incorporation (legal) Name/Partnership Name/Individual Name

2. Doing Business As; Trade Name; or Business Name

3. Domain Name as used in a URL

4. Trade Mark

5. Service Mark

6. Product Name

7. Club or Association Name

8. Transport Vessel Name

9. Competition/Event Name

10. Division Name

11. Subsidiary Name

12. Acronyms (must be only the first letter of the primary words of the name) Eligibility is verified by the .travel Registry reviewing information provided by the applicant to determine that the applicant is primarily carrying on business or operations in the travel industry. .TRAVEL can be registered if your entitiy belongs to one fo the following Travel Sectors:

13. Airlines

14. Attractions/Theme Parks

15. Bed & Breakfast Houses

16. Bus/Taxi/Limousine Operators

17. Camp Facility Operators

18. Vehicle Rental Companies/Airport Specialty Car Park Companies Computer Reservation/Travel Technology Provider

19. Convention & Visitor's Bureaus

20. Cruise Lines

21. Ferries

22. Hotels/Resorts/Casinos

23. National Tourism Offices

24. Passenger Rail Lines

25. Restaurants

26. Tour Operators

27. Travel Agents

28. Travel Media

29. Travel-Consumer and Market Research Organizations

Frequently Asked Questions for .TRAVEL domain names
Is local company in International required?
NO
No, it is not required to have a local company in International, in order to register a .TRAVEL domain name.
Is local admin contact in International required?
NO
No, a local administrative contact in International is not required in order to register .TRAVEL domain names.
Are trademarks usable in International?
NO
Unfortunately, neither a trademark application or registration in International or elsewhere will give specific access to register .TRAVEL domains.
Is Internationalized Domain Name (IDN) available?
NO
It is not possible to register .TRAVEL IDN domain names with non-ASCII characters.
Are generic domains allowed for .TRAVEL?
N/A
There are some restrictions on the type of domain names allowed in International. Please contact us beforehand, if you are planning to apply for a generic type .TRAVEL domain.
How much time does it take to register .TRAVEL domain name?
1 day/s
Usually, it takes 1 day/s to register a .TRAVEL domain name in International. We will file the application as soon as possible. However, we cannot provide guarantees as we have no influence on the speed of the International domain authority once the application has been filed.
What is the minimum of characters allowed for .TRAVEL domains?
3
It is not possible to apply for .TRAVEL domain names with less than 3 characters.
What is the maximum of characters allowed for .TRAVEL domains?
63
It is not possible to apply for .TRAVEL domain names with more than 63 characters.
Can I register more than one International domain name?
YES, unlimited
Applicants may register an unlimited amount of International .TRAVEL domain names.
Are there other domain extensions related to International?
YES
Yes, there are more International extensions available at Web Solutions. Some of them might not require local presence and may be unrestricted. Please check the available extensions for International below:
How to transfer domains to Web Solutions?
Required info:
Enter the domains you wish to have transferred to Web Solutions into the box
Fill in your name and email address
Press Confirm. A person from Web Solutions Support will contact you, in order to process the transfer request
Additional information:
If you have Auth. Codes ready, include these. If not, you can send them later
If possible and relevant, please unlock the domains, so they are ready for transfer
The top three TLDs in Google search results are .COM, .ORG and .GOV.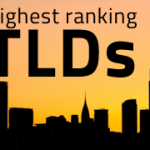 In the light of over 200 new generic Top Level Domains having been released to the Internet so far, a question appears as to whether any of them are among the extensions that rank highest in search results. Pete Meyers, a cognitive psychologist and SEO expert from Chicago, has compiled information in an attempt to answer that question by looking at [...]
The .TRAVEL Registry has received permission from ICANN, for a planed release of 1 and 2-Character Domain names. There is no offic [...]