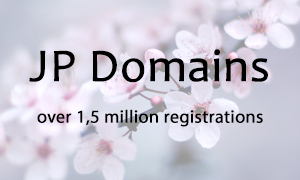 1 500 136 is the exact number of registered .JP domain names that are in use. 1 010 401 of them are registered directly within the national .JP Top-Level domain (e.g., web-solutions.jp).
The remaining Third-Level domains are of organizational or geographical type – 473 903 domains (e.g., web-solutions.co.jp). 11 932 domains are mostly local, regional and functional domains (e.g., web-solutions.tokyo.jp).
Only 10% of the Top-Level domains are IDN names, i.e., such www addresses that are composed not only of ASCII characters (letters of the English alphabet and numbers), but also of local characters. Japan is number 6 in the ranking of countries with the highest domain registration rate.
Web Solutions, as a global domain registrar, offers registration of .JP domains with the Local Presence service, where a permanent address in Japan is required for companies and individuals from outside the territory of this country.