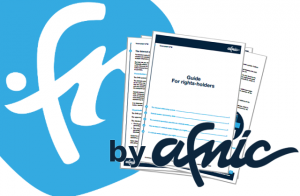 AFNIC (the French Network Information Centre – a non-profit organization positioned as a provider of technical solutions and services for registries and registrars) has recently published its special report for Rights-holders. Guide is to present good practice in defending one's Internet address on an informed basis. AFNIC has outlined its own practices when it comes across manifest violations of its charter. The body said it would inform users of the responsibilities associated with registering a domain name and will establish full transparency in respect of moves to counter abuse.
AFNIC authorities announced:
"It is essential for rights-holders today to know the means at their disposal in order to contact third parties who have filed potentially litigious domain names. Similarly, it is equally important for them to know the tools and procedures they can use to manage disputes when the search for an amicable solution is not possible or has been unsuccessful."
Presented guide is a part of the French Registry's series of special reports. This document answers all of these issues for domain names filed under the .FR TLD and provides guidance to other entities managed by AFNIC, such as .RE (Reunion Island), .YT (Mayotte), .WF (Wallis and Futuna), .TF (French Southern Territories) and .PM (Saint-Pierre and Miquelon).
In the report you can find information on French Registry's role and responsibilities. There is a how to available to determine if a domain name infringes your rights and description on technical operations possible on a domain name. Such operations would be (with examples) how to suspend, block domain names or delete them, as well as the legal basis and procedures.
To register domain within AFNIC, applicant must be based within the European Union or EFTA. Web Solutions further offer a Trustee Service for .FR domains.
If you wish to register a .FR domain, please use the registration module below. You are also welcome to contact us at support@web-solutions.eu for more information.