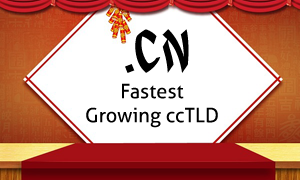 The .DE domain, the long-time leader on the ccTLD market, has been dethroned by the .CN extension as a result of the dynamic growth of the Chinese domain, according to Xinhuanet.com. At the end of December 2015 the number of registered domain names under .CN was 16,363,594 compared to 14,991,015 the end of November 2015. In contrast, the German domain .DE has been experiencing a decline. The number of registrations under .DE dropped from 16,019,419 at the end of November 2015 to 16,009,814 at the end of December 2015.
The gigantic leap of the .CN domain can be attributed to the wider access to the Internet in China as well as the growing number of Internet users in this fast developing economy.
The .CN domain is the extension of choice for institutions and organisations as well as all central and provincial governments. The majority of telecom companies and commercial banks also operate under the .CN domain. Moreover, a large number of multi-nationals have also registered their domain names within the Chinese ccTLD in order to enhance their presence on the Chinese market and reach Chinese consumers.
The chart below presents the numbers for the first and second levels of the .CN extension.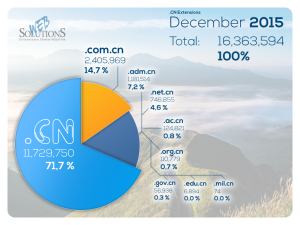 On the global scale, the .CN domain comes in second, trailing behing the .COM with 123,889,787 registrations worldwide. .CN is followed by .DE and legacy domains .NET and .ORG.
Below, there are the top ten domains as of the beginning of January 2016, as reported by the .DE Registry: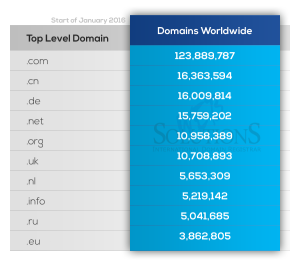 If you wish to join the global community of proactive Internet users and mark your presence online with a unique and memorable address, consider registering a country code domain name. Please click the domain of choice and use our search tool to check if the name you are looking for is available.
For assistance, contact our support team at support@web-solutions.eu.