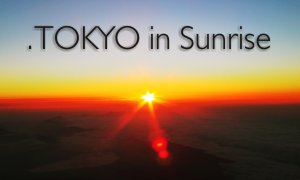 Another global city, Tokyo, will now have its virtual name-place providing a unique and designated platform for all things related to this global city.
During the first phase, Sunrise, registration is open exclusively to trademark holders. Commencing on 9 June, the .TOKYO domain will be available for Advanced Registration to Internet users all over the world. Beginning 22 July, the domain will be open for registration by the general public on a first-come, first-served basis.
Tokyo, the capital of Japan and one of the globe's largest urban areas, is famous for technological innovation, world-class cuisine or luxury shopping. The new .TOKYO domain will represent and promote the city's cultural heritage, business and citizen communities as well as serve as a platform to provide information to Internet users on both the local and global level.
Anyone wishing to identify with the city of .TOKYO will be able to register a domain name with no local address required. The domain is expected to play a vital role in the 2020 Olympic Games and the Paralympic Games that are to be held in Tokyo.
Nearly 70 new geographic TLDs are to be released online over the next few years. These government-backed domains will open doors for businesses and organisations seeking to connect with local markets.
To take advantage of the opportunity to register a meaningful name that will showcase your affinity with the city of .TOKYO, or to register any other domain name of your choice, please enter the selected name in the box or contact our Support Team at support@web-solutions.eu or via phone on +44 (0) 20 4571 1971.