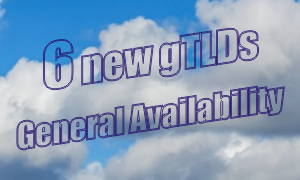 The Internet Corporation for Assigned Names and Numbers' (ICANN) New gTLDs Program will introduce hundreds of new domains to the Internet in order to enhance choice and competition on the Web. Within the program, a number of new generic domains have already been released and are now available for registration.
Six more new gTLDs, .TRAINING, .SOLUTIONS, .EMAIL, .BUILDERS., .SUPPORT and .UNO have just entered the Open Registration phase which means that everyone can register domain names under these extensions. Registration is open to individuals, businesses and organisations on a first-come, first-served and non-restricted basis.
Five more new gTLDs are scheduled for general availability on March 26,2014. The five new domains are: .REPAIR, .CAMP, .EDUCATION, .INSTITUTE and. GLASS.
EAP (Early Access Registrations) are available during the first seven days of a gTLD's General Availability.
If you are interested in registering a domain name under the above mentioned extensions or any other domains, please contact our Support Team at support@web-solutions.eu or via phone on +44 (0) 20 4571 1971.