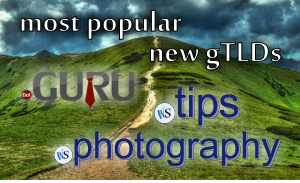 In light of a relatively successful launch of the new gTLD .PHOTOGRAPHY it may be expected that a semantically similar extension .PHOTOS will attract as much interest. On the other hand, the latter sounds less professional and may be associated more with "pics" than professional photography, so it is too soon to tell how successful the .PHOTOS domain will be.
With ten additional new gTLDs entering the Internet root zone, the total number of generic domains approved by ICANN has reached 163.
The latest additions include:
.CHRISTMAS,
.PUB,
.ACTOR,
.SUPPLIES,
.FISH,
.VACATIONS,
.INDUSTRIES,
.SUPPLY,
.дети (xn--d1acj3b) – Russian for "kids"
.삼성 (xn―cg4bki) – Korean for "Samsung"
It seems that .PUB has the greatest chance of making a career as it refers to the industry that does not usually go through a crisis. The term "pub" is easily recognised in every corner of the world and it is a three-letter extension which makes it a potentially relevant competitor of .COM or other global domains.
Another gTLD that is likely to enjoy success is .Дети (Russian for "kids") embracing the vibrant "children industry" that generates considerable profits around the world. However, the range of this extension will probably be limited mainly to the former Soviet Union.
In the meantime, .TIPS gTLD is stirring things up on the marketplace. It has grown to nearly match the popularity of the leading gTLD .GURU with over 8,000 registrations within one day after entering the General Availability phase. The .TIPS domain ranks fourth among the most popular generic TLDs.
For the purpose of comparison, the number of registered .GURU domain names is approximately 40,000 while .ENTERPRISES domain reportedly has more than 1,200 registrations, .DIAMONDS has 1,100 and .VOYAGE has close to 1000 registered names.
To take advantage of new developments on the domain market and new Internet extensions coming online, consider registering the domain name that will best describe your site. With lots of new meaningful name-places it is easier than ever to mark your unique presence online.
To register the name you desire, type it in the box or fill in the provided form to pre-register it free of charge. For more information about new generic Top Level Domains, contact our Support Team at support@web-solutions.eu or via phone on +44 (0) 20 4571 1971.