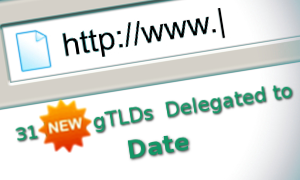 Since 23 October 2013, ICANN has delegated the total of 31 new generic domains within the New gTLD Program designed to promote competition and enhance communication on the global internet.
When a domain is delegated, it is placed into the Internet's Root Zone which is the authoritative database for the Internet. Domain delegation into Root Zone is the last step before releasing TLD and allowing registrations.
The new gTLDs or strings that have successfully completed the Programme include the following:
.DIAMONDS
.TIPS
.PHOTOGRAPHY
.DIRECTORY
.ENTERPRISES
.KITCHEN
.TODAY
.PLUMBING
.GRAPHICS
.CONTRACTORS
.GALLERY
.SEXY
.CONSTRUCTION
.TATTOO
.TECHNOLOGY
.ESTATE
.LAND
.BIKE
.VENTURES
.CAMERA
.CLOTHING
.LIGHTING
.SINGLES
.VOYAGE
.GURU
.HOLDINGS
.EQUIPMENT
.شبكة (xn--ngbc5azd) – Arabic for "web/network"
.онлайн (xn--80asehdb) – Cyrillic for "online"
.сайт (xn--80aswg) – Cyrillic for "site"
.游戏 (xn--unup4y) – Chinese for "game(s)"
Web Solutions offers new gTLDs preregistration module free of charge and without any obligation to buy later on. We will keep you updated on future developments related to your preregistered domains, including information about pricing and regulations, once these have been announced by the gTLD registry responsible.