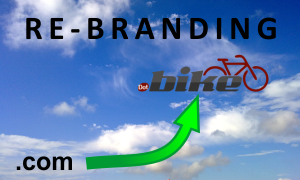 New generic TLDs are an inspiration for re-branding for some companies. Doubtful that it will become a wide-spread phenomenon, the migration towards new domain extensions seems to make some business sense.
One of the companies that has made a move to adopt a new gTLD is Aspire VeloTech, previously operating online under AspireVeloTech.com which redirects visitors to the new address. A provider of quality biking components worldwide, the company assumed the name already preferred by its customers under the .BIKE extension: AVT.BIKE.
The company's major benefit of the transition to the .BIKE extension is the new domain name's instant relevance among Internet users interested in biking and motorcycle products. With this easy to remember Internet address the company's online presence has been greatly enhanced.
The three-letter acronym, AVT, used by the majority of Aspire VeloTech's customers, has long been unavailable under other extensions such as .COM or .NET. But even if it were otherwise, it could be argued whether in this case an industry-related new gTLD is not a better option than choosing one of the old extensions.
It goes without saying that in most cases new gTLDs would be supplements to the existing brands; it remains to be seen, however, to what extent the popularisation of new domain extensions will affect the companies' image.