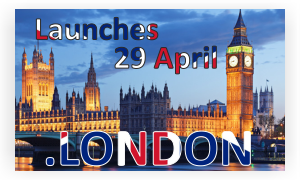 The new gTLD .LONDON was approved by the Internet Corporation for Assigned Names and Numbers (ICANN) last year.
During the Sunrise period, commencing on 29 April, applications for .LONDON will be accepted for the following three months with trademark holders being given priority in domain registration. London-based companies, organisations and individuals or anyone else with an interest in London can apply for a .LONDON domain name during that time. Priority ranking will be the basis for domain names allocation.
Following the 3-month launch period, .LONDON will be available for registration on a first come, first served basis.
London is one of the first cities to have its own domain.
If you are interested in .LONDON-oriented domain name, please take advantage of the opportunity to pre-register the domain name of your choice free of charge and no obligation to buy later. For more information, please contact our Support Team at support@web-solutions.eu or via phone on +44 (0) 20 4571 1971.