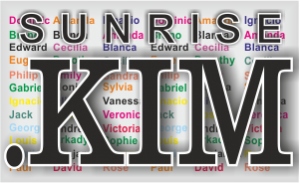 .KIM domain is one of new generic TLDs that are entering the Web in order to meet unique needs of Internet users. KIM (Korean for "gold") is the most common ancient Korean surname – more than 10 million individuals carry that name. KIM is used as a first name by both women and men. More than 300, 000 Americans, according to U.S. Census statistics, have the first name Kim, of whom 87% are women.
The .KIM domain is a distinct extension that greatly enhances Kims' visibility all over the world to affirm as part of "the first family of the Internet."
The 30-day minimum notice period of the Start Date sunrise for .KIM has begun. From 11 March 2014 through 10 April 2014, .KIM domain names will be awarded on a "first come, first served" basis strictly to trademark holders whose marks are registered in the Trademark Clearinghouse.
The general availability period is scheduled to open on 11 April. From that point forward, .KIM addresses will be available for registration by general public.
To register the .KIM name that will meet your needs, enter the name in the box or contact our Support Team at support@web-solutions.eu or via phone on +44 (0) 20 4571 1971.