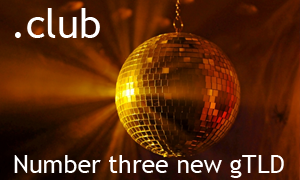 The two most popular new gTLDs are .GURU and .BERLIN with nearly 56,000 and 47,550 registrations respectively.
The .CLUB domain has been very successful since its launch with registrations exceeding 25,000 on the first day of General Availability. For comparison, there were 25,311 registrations within .CLUB on its first day of open registration while the total number of registrations among all of the new generic TLDs was 28,245.
Apart from the domains mentioned above, .CLUB, .GURU and .BERLIN, there are six other new gTLDs with registrations exceeding 20,000:
.PHOTOGRAPHY 35,089
.在线 30,980
.EMAIL 28,857
.LINK 24,045
.TODAY 23,597
.TIPS 21,880
To start your own .CLUB online or any other website, please click on the domain that will best match your needs to find out more about its registration.
Our Support Team is available to answer your questions or offer further assistance at support@web-solutions.eu or via phone on +44 (0) 20 4571 1971.