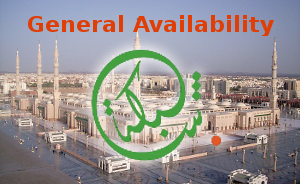 The new domain .SHABAKA (Arabic for "web" or "network") has already entered the General Availability phase and is likely to be one of the more successful of the new generic Top Level Domains.
It marks a new era for Arabic-speaking Internet users worldwide opening new communication and navigation channels for Arabic-language content online.
According to .SHABAKA Registry, "two hundred and fifty companies have registered for this first Arabic generic TLD. Its not the first Arabic TLD – country code TLDs including .الاردن for Jordan and .السعودية for Saudi Arabia, went live in 2010.
It is expected that over the coming days other non-Latin script gTLDs will be launched: .游戏, (Mandarin for game), .сайт (Russian for site) and .онлайн (Russian for online).