GENERAL POLICY FOR REGISTRATION OF MONTENEGRIN DOMAIN NAMES .ME
General Information
.ME domain names may be registered for a minimum of 1 year and a maximum of 10 years.
.ME domains are automatically renewed upon their expiration date. Please contact our Support Team for more details at support@web-solutions.eu.
.ME domain names must consist of at least 3 characters (second level) or 2 characters (third level) and a maximum 63 characters.
.ME domain names can consist of only Latin alphabet characters (a-z), digits, and hyphens.
A hyphen cannot stand at the beginning or the end of a .ME domain name. A hyphen cannot be used in the third and fourth position within a domain name.
Internationalised domain names (IDNs) are not currently offered.
Registration of domain names which consist of at least 5 characters made up of solely numerals and hyphens is not allowed.
Registrants are required to provide accurate contact information: name of registrant, administrative contact, technical contact, billing information (billing information will not be disclosed in the WHOIS).
Registrants are required to provide information for at least two (2) valid nameservers for each domain name. If Registrant does not provide nameserver details, Web Solution's nameserver information will be used for registration purposes. The nameserver information can be changed at a later time.
Available Names
Two categories of Montenegrin domain names are available for registration:
.ME domain names can be registered by individuals or corporations worldwide without any specific requirements or restrictions.
Third-Level Zone:
.NET.ME
.ORG.ME
.CO.ME
.ITS.ME
.PRIV.METhe following sub-domains are administrated by the University of Montenegro Center of Information Systems (CIS).
.EDU.ME (educational)
.AC.ME (academic)
.GOV.ME (government)
Third-level .ME domain domain names can be registered only by individuals and entities based in Montenegro.
Web Solutions further offer Local Trustee Service for entities without local presence in Montenegro. For more information contact our Support Team at support@web-solutions.eu.
Montenegrin domain names are available for registration to applicants aged 18 and older.
Reserved & Premium Names
Reserved Names
Some names are not available for registration by the general public and are held back for government and registry use.
Premium Names
Due to their popularity, some Premium Names have been held back by the Montenegrin Domain Registry and are not currently available for registration. The registry has plans to release them in the future.
Criteria for Non-Auction Allocation of Montenegrin Premium Names:
1. The domain name shall be used as the primary URL for a web site, a product site, or a
service site.
2. The web site, product, or service cannot contain or be used to promote sexually-oriented
content or advertising.
3. The applicant for a domain name shall not use the name for personal use, shall not apply as an individual, and shall not be a sole proprietor.
4. The applicant shall demonstrate significant online traffic.
5. Applicant shall agree to other terms, including a minimum 3-year term and restricted rights during that minimum term.
For more information on Premium Names, contact our Support Team at support@web-solutions.eu or via phone on +44 (0) 20 4571 1971.
Domain Name Abuse
Abusive practices on .ME domains shall not be tolerated. Such practices include but are not limited to:
any forms of spam (e-mail, instant messaging, mobile messaging, spamming of Web sites and Internet forums),
pharming,
phishing,
willful distribution of malware,
distribution of child pornography,
accessing other computers or networks illegally.
Montenegrin Domain Authority reserves the right to take an action deemed necessary (i.e. deny or cancel the registration, renewal or transfer of any .ME domain name, or to lock or place on hold any .ME domain name) upon reasonable evidence pointing to the domain being used in an abusive manner (including the above).
Terms and Conditions
Registrant shall comply with all applicable laws, rules, regulations, ordinances and policies related to the .ME domain name applied for, the live site corresponding to the domain name and its performance.
All parties to a .ME domain name registration agreement shall submit to the internal laws of Montenegro without giving effect to any choice of law rules. The relevant jurisdiction is the court located in Podgorica, Montenegro.
Registrant shall agree to the use, copying, distribution, publication, modification and other processing of Registrant's personal data by the Montenegrin Domain Authority in a manner consistent with the purposes of the domain name registration agreement.
Registrant shall act in accordance with proceedings outlined in any dispute policy implemented by the Montenegrin Domain Authority.
Registrant shall keep the registration information current for each registered .ME name during the registration term.
Registrant agrees to indemnify, defend and hold harmless the Montenegrin Domain Authority and its affiliates "from and against any and all claims, damages, liabilities, costs and expenses" associated with the "Registrant's registration or the use of any .ME domain names registered by or on behalf of such Registrant".
Privacy Policy
The Montenegrin Domain Authority may collect registrant information in different ways primarily in order to provide a customized experience. The information is not usually shared with third parties. However, personal information collected by MDA may be disclosed upon the registrant's permission obtained beforehand or in special circumstances, such as responses to e-mail queries, managing visitors accounts, voluntary customer surveys, joint promotions, etc. or when required by law
Dispute Policy
Cases of .ME domain Uniform Dispute Resolution Process may be filed with World Intellectual Property Organization (WIPO).
For more details on .ME Dispute Policy, please contact our Support Team at support@web-solutions.eu or via phone on +44 (0) 20 4571 1971.
There are over one million domain names registered within the .ME extension, according to the .ME Registry.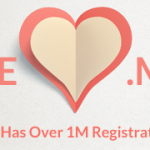 Last year, the growth rate for the country code of Montenegro was 28% and the total number of domain names registered has just passed the one million mark. Formally introduced in 2007, .ME is a country code domain but it has been widely embraced as a generic domain. Startups and innovative ventures readily adopt .ME addresses. The extension is als [...]
The dynamically increasing number of domain name registrations across all domains available was close to 300 million, according to [...]
If your perfect domain name is already taken and you cannot buy it, consider changing your company name or "flock" to a differ [...]