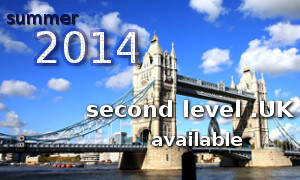 The UK's ccTLD is going to expand, as plans to offer registration directly under .UK have been approved by the .UK domain authorities.
Shorter and simpler .UK domain names (example.uk) will be available for registration in summer 2014 alongside Third-Level Domains (example.co.uk, example.org.uk, etc.) available so far. This modification of the .UK country code domain is the biggest since it began.
Original Second-Level Domains will be available on a first-come, first served basis provided that an equivalent name has not already been registered under .CO.UK or .ORG.UK domains.
Over ten million registrants of existing .UK domain names will be offered the shorter equivalent of their current address. They will have five years to decide whether they wish to use it in addition to, or in place of the domain they already hold. In cases involving competition-related issues such as one person holding example.co.uk and another holding example.org.uk – the .UK domain will be offered to the .co.uk registrant.
All existing .UK domains, namely .CO.UK, .ORG.UK, .NET.UK, .ME.UK, .PLC.UK, .LTD.UK and SCH.UK will continue to function as normal.
By introducing Second-Level Domain registration options, .UK will adopt the standards of other large country-code registries, like France's .FR or Germany's .DE. According to a recent survey, 72% of UK business executives in the decision making position believe that 'example.uk' registrations should be an option, while only 2% expressed their disapproval.
The .UK ccTLD is one of the most trusted and popular domains. By offering the option of a shorter equivalent, the domain should appeal to both new and existing businesses, organisations and individuals.
The definite lunch date is to be announced by February 2014.
To register a .UK domain name of your choice and secure it for the shorter equivalent in the future, please type the name in the box to check if it is available. For more information, please contact Web Solutions Support Team at support@web-solution.eu or by calling +44 (0) 20 4571 1971.