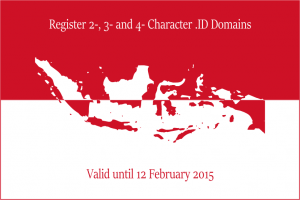 Now you are able to register domain names like, for example, xxx.id.
The special offer is available for a limited time and ends on 12 February 2015.
Local presence is required for .ID domain registration but it is possible to use our Trustee Service for Indonesia. Through our local branch or specially appointed and trusted agent, Web Solutions can provide the necessary local representation for the purpose of registering an .ID domain.
A one-off premium registration fee will be charged by the Registry. See below for details.
After the first year, the annual renewal fees will be charged at regular pricing.
| | One off Cost IDR | One off Cost USD (appr.) |
| --- | --- | --- |
| 4 characters | 2.200.000,00 | 173,80 |
| 3 characters | 16.500.000,00 | 1.303,50 |
| 2 characters | 55.000.000,00 | 4.345,00 |
Note: These are one-off fees charged by the Indonesian Domain Registry, not by Web Solutions. We will of course assist with handling the payments and the whole registration process.
If you would like more details or exact pricing information including our fees, or file an order, please contact us via email or phone.
Registration of those special .ID domain names will not follow the first come first served rule, but the domain holder will be defined at the end of the registration period, on February 12th, 2015.
To take advantage of this special limited-time opportunity, contact our support team at support@web-solutions.eu or via phone on +45 7026 2025 (2).