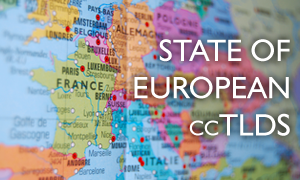 According to the recently released DomainWire report by CENTR, a not-for-profit ccTLD association, the growth rates for both European ccTLDs and Legacy TLDs (domains such as .COM or .ORG) are closely aligned, showing a downward trend.
The weak growth in European ccTLDs is demonstrated by annual increase by 3.4 % as compared to 3 % growth among Legacy TLDs. Interestingly, the highest recorded growth of 4.7 % by the end of the quarter was displayed by .BY (Belarus). The German domain .DE has the largest domain zone of 15.7 million registrations. The renewal rate for 34 European ccTLDs is 81 % percent).
The following are the five fastest growing national domains in Europe with the growth percentage provided in brackets:
.BY (Belarus) — (6.0 %)
.PT (Portugal) – (3.7 %)
.IS (Iceland) – (2.9 %)
.EE (Estonia) – (2.4 %)
.RO (Romania) – (2.1 %)
The report also covers the rate of domain penetration measured by the number of Internet addresses per 100 inhabitants in the country. The leader in this regard is .LI (Liechtenstein) with 175 domain names per 100 population followed by .ME (Montenegro) with 117 names. However, the .MI statistics may be misleading and not reflecting the true popularity of the national domain in its home country due to the fact that .ME domain is most successful outside of Montenegro.
Despite a decline in IDN registrations on a global scale, the European IDNs are in a pretty good state. In December 2013, the number of European ccTLD domain names containing at least one national character was 1.2 million – that is about 6 % of all domain names registered within European ccTLDs. That is an increase of about 17 percent within the period of six months. For the most part this is the result of increased registrations within the Russian domain.
Dynamic development of the Chinese and Russian Internet has played a role in the growing number of domain names registered under ccTLDs. Reference to a region or locality seems to be important in establishing Internet presence, hence the success of other geographic domains such as .BERLIN or .LONDON.
To mark your presence within the regional market or to display local ties consider registering a domain name that will best match your needs. Some countries require local presence in order to register a domain name but Web Solutions can assist in that via its Local Trustee Service.
For questions or help, contact our Support Team at support@web-solutions.eu or via phone on +44 (0) 20 4571 1971.