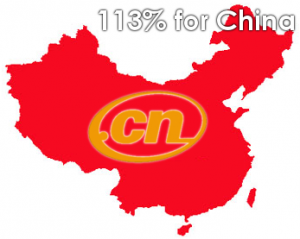 A comparative study of the major 50 domain name extensions worldwide shows an average growth rate of 7%.
The extension which underwent the most outstanding growth in 2012 was the country code Top-Level Domain .CN used for mainland China, with an annual increase of 113%.Restrictions for Chinese domain names registrations were relaxed in May 2012, allowing private persons and foreign nationals to once again register .CN domains. This move helped the Chinese registry reached 7.5 million registered .CN domains by year-end 2012.
In terms of number of registered names over all, the international .COM remains in top spot with 106 million domains by year-end 2012. It is followed by .NET (15,500,000), .DE (Germany, 15.3 million), .ORG (10,300,000), .UK (United Kingdom 10.3 million) .INFO (8.1 million) and of course .CN (China, 7.5 million).
Do I have to own a company or trademarks in China, in order to register .CN domain names?
No, anyone may register any amount of Chinese .CN domains, without any kind of local presence or local contacts rquired.
However, to register Chinese domains you must provide documentation establishing your identity:
Individuals applying will be required to submit a copy of their personal ID, together with a letter of commitment which Web Solutions will assist in drafting.
Business customers are required to provide the following documents:
business certificate
letter of commitment
photo ID scan