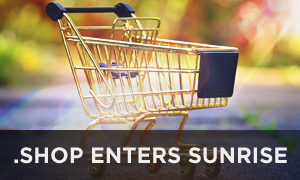 As online shopping continues to be more and more prevalent, .SHOP seems to be the perfect extension for an e-shop of every kind. It is down-to-the-point, convenient, and very easy to remember. The .SHOP extension is a fantastic way to increase any e-commerce site's presence online and to attract valuable traffic. This meaningful domain will definitely help a growing number of shoppers find your site more easily!
The Sunrise Phase starts 30 June at 15:00 (UTC).
Applications for this phase are accepted until 29 August 2016, 23:59 (UTC) and are reserved for trademark owners with a valid SMD file. Disputes over domain names that have been applied for by multiple parties will be settled via an auction.
Early Access Program will follow the Sunrise period and will last from 1 September, 15:00 (UTC) to 26 September, 14:59 (UTC). It will be conducted in seven stages on a first-come, first-served basis.
On 26 September, 15:00 (UTC), .SHOP will enter the General Availability Phase and will be available to anyone across the globe on a first-come, first-served basis.
Please be advised that applications for Sunrise and EAP can be submitted no later than 1 hour before the end of the phase.
If you wish to gain momentum online, register a .SHOP domain name today and watch your business boom!
If you have questions or need more information, please contact our Support Team at support@web-solutions.eu.