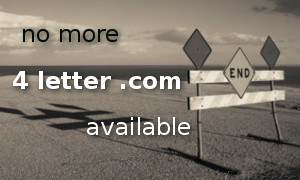 It appears that recently the Internet has run out of four-letter domain names within .COM extension. Not only does it refer to four-letter words that can be pronounced, such as pets.com or eBay.com, but also to any possible four-letter combinations. All of the four-letter.com names, from aaaa.com to zzzz.com, have already been registered – accounting for 456,976 combinations. According to WhoAPI, who verified the data, no four-letter names are available for registration.
While some of them are not being actively maintained and available for sale by various Internet domain-name resellers, none are immediately available to be claimed. Praised for their appeal as easy to remember, two- and three-letter domain names have enjoyed great popularity and four-letter internet addresses soon followed suit.
Those still eager to obtain a four-character domain name, could try replacing one letter with a number. There may still be available some four-character combinations within top-level domains other than .COM, such as .BIZ, .NET, and many more.
Despite the shortage of such names, Internet users manage to navigate the Web relying mainly on search results rather than typing URLs into the browser bar. And it could be a while before all the 11,881,376 five-character combinations are claimed.
Nevertheless it is always better to register your desired domain name, just in case, before someone else will and therefore prevent you from obtaining chosen name for ever.
To reserve your rights for your dreamed domain name within .COM or any other TLD, please use our domain search box located below.