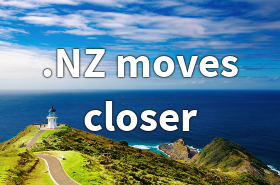 New Zealanders are once again being encouraged to comment on a proposal to allow .NZ registrations at the second level. Currently, its only possible to register third level .NZ domains, such as "company.co.nz".
A Domain Name Commission has been set up, with the chair person recently commenting that there are both potential benefits and potential issues to consider.
A current proposal is to allow existing registrants to reserve registration of the equivalent of their current name at the second level for at least two years.
Polls amongst New Zealanders seem to indicate increasing support for this expansion of the .NZ domain space. In 2003 only 25 percent of New Zealanders showed a preference for being able to register domain names directly at the second level. However, in a 2011 survey, 59 percent of registrants said they did.
.NZ domains wait list
In April we have created the wait lists for expected introduction of .UK and .NZ second level domain registrations. You can read about it here: Wait lists for .UK and .NZ second level domains. If you wish to place domains on our .NZ wait list, or would like more information, simply write to support@web-solutions.eu.